Belgian Beer Quest Launch Party and Tasting RSVP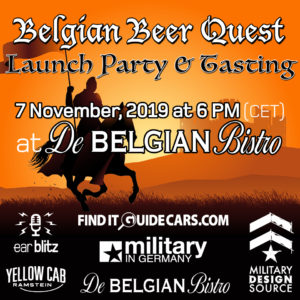 Event Date and Time: 7 November, 2019 at 6 PM (CET)
Event Address: De Belgian Bistro, Danziger Strasse 10, Weilerbach, Rheinland-Pfalz 67685 Germany
Join Ear Blitz host Nate Cairney and Military in Germany for the must attend event of the year. The Belgian Beer Quest Podcast Launch Party will introduce you to some of the best beers in Belgium you have never heard of.
– 5 Belgian samples
– Finger Foods/tapas
– The Beer Knowledge from guest speakers
– Surprise Bonus
Payment will be accepted at event.
For taxi service, Ramstein Yellow Cab is our partner for the event.  Taxi reservations: 0176 64 99 82 92
You must be registered to attend this event.  Registration is now closed.